Taliban leader threatens to kill Pakistani teenager who calls for peace and education.
Would you call for dialogue with the people who shot you in the head?
What if the shooters were brazen Taliban fighters who attacked you in a schoolbus so they could scare young girls like you out of seeking an education?
Would anyone else be so forgiving and open?
Pakistani teen Malala Yousefzai is all those things and more, and told the BBC Monday "the best way to solve problems and to fight against war is through dialogue."
Such magnanimous thinking is probably why young Malala is a favorite for the Nobel Peace Prize, which is being awarded on Friday in Oslo, Norway.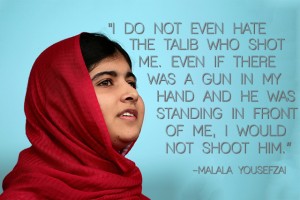 Read more . . .