From Manhattan to Tuvalu, the inevitability of rising sea levels is the talk of the town.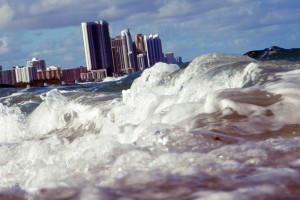 Coming to a coastline near you: rising sea levels. (Photo: Joe Raedle/Getty).
Last year, during my almost-annual visit to French Polynesia, giant storms raked the islands, sending floodwaters rushing over the thin strips of sand that are home to thousands. To escape the rising sea levels, locals climbed radar towers at the airport and put babies in Styrofoam coolers. Like so many people around the globe, thanks to warming seas and skies, these islanders are getting more and more used to nasty storms and floods and knew where to find higher ground.
Read more . . .